Tag Heuer Carrera CV2010 (Jam Tangan Asli) pn283
7 Days Visitors :

119

Senarai untuk dilihat :

18
Sejarah Perubahan Harga Jualan
Peningkatan Tawaran : $10 Tawaran : 0
5% harga tawaran diperlukan untuk yuran lelongan.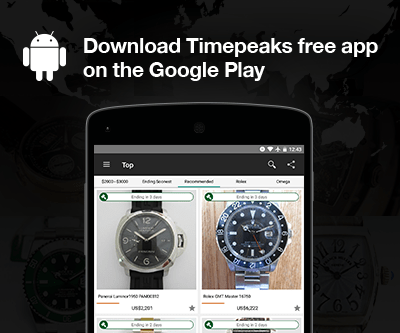 Nombor Item
pn283
Jenis barang

User Item (Japan)

The seller has submitted an ID.

Penjual telah signin dalam 7 hari lepas
Penerangan
| | |
| --- | --- |
| | Tag Heuer |
| | Tiada |
| | YQ**** |
| | Tiada |
| | Digunakan Baik(AB) |
| | 41mm |
| | Keluli tahan karat |
| | Automatik |
| | Bekerja |
| | Panjang kira-kira 18.5 cm, Tiada pautan lain, Buckle:Tiada Masalah |
| | Tiada Masalah |
| | Tiada Masalah |
| | Tiada Masalah |
| | Putar dengan sambutan yang sesuai |
| | Kerosakan kecil |
Penerangan terperinci:
[TAG HEUER TAG Heuer]
Carrera CV2010 Chronograph
SS Date Men's Automatic Volume Back Scale 70078-1
Brand name TAG HEUER
Tag Heuer model number CV2010
Serial number YQ2 *** Size Men
Dial Black band color-
Inner diameter (arm circumference) Up to about 18.5cm Case width about 41mm (excluding crown)
Drive Automatic (mechanical)
Material Stainless steel (SS) Function / Specifications Waterproof 5 bar (50m): Waterproof for everyday life / non-screw-down crown
Function 1: Chronograph / Calen
Kami tidak bergabung dengan mana-mana pengeluar jam tangan.
Kami hanya menjual jam tangan asli. Walau bagaimanapun, item berikut tidak boleh dijamin.

Jika penggantian dail atau refinishing telah berlaku.
Sama ada berlian adalah pengeluar set atau selepas pasaran.
Semua bahagian asal.
Item Pengguna(Jepun)
Item ini dijual oleh pengguna Jepun.
Penerangan item ditulis oleh pengguna.
Selepas pembayaran anda, Timepeaks akan memeriksa ketulenan item dan sama ada item sama dengan penerangan item. Selepas pemeriksaan, Timepeaks akan menghantar item kepada anda.
Proses pembelian
Tempatkan Tawaran.

Menjadi pembida tertinggi selepas tamat pembidaan

Anda perlu membuat pembayaran apabila anda menerima notis.

Penjual menghantar item tersebut kepada Timepeaks.

Timepeaks akan memeriksa ketulenan item tersebut.

Timepeaks akan menghantar item kepada anda.
Pembayaran
Total payment becomes the total of item price, auction fee, shipping fee (insurance included), you can check on the bid confirmation page.

Depending on the country and items, you will probably need to pay additional customs fees, VAT, tariffs etc..

It is also possible to receive items in Tokyo. In that case the shipping fee will be refunded, but if you are not eligible for tax exemption you will need to pay an additional 10% Japanese consumption tax.
Pemindahan Wire Bank
Overseas bank transfer to Japan is available for items over $800.
Checking and Shipping
Jaminan ketulenan
Timepeaks adalah tempat pasaran jam tangan yang selamat untuk pengumpul kali pertama. Sebelum setiap transaksi selesai, pakar jam tangan kami akan memeriksa setiap satu jam tangan di pejabat kami di Jepun.&nbspKami tidak pernah menjual jam tangan palsu.&nbspSemua jam tangan dijamin 100% sahih.
Penghantaran oleh EMS Dari Jepun
Biasanya ia mengambil dari 4 ke10 hari dari pembayaran sebelum penghantaran
Biasanaya ia mengambil dari3 ke 7 hari untuk penghantaran untuk sampai kepada anda

Usually Timepeaks uses EMS for delivery.
In case of delivering high-priced items or gold products, we use Fedex, DHL at additional charge.
Lokasi item
Item ini disimpan oleh pengguna di Jepun.