Rolex ☆Waterproof performance 100m Sale   2.3 million gorgeous Black dial diamond  If you want it, let's t (Pre-owned watch) sc645
7 Days Visitors :

37

Watchlist :

3
Price change history
5% of price will be added as a purchase fee.
Buy it now price
Bidding Price
$ 18,367 USD
Purchase fee
$ 918.35 USD
Delivery Fee To UNITED STATES
(Insurance Fee)
$ 35.74 USD ( +220.40 )
Total Price
$ 19,541.49 USD
Short-term let goI'm sorry if I delete it suddenly
Please contact us for price consultation
I uploaded a video on instagram. Please @gyufadoke
A series Genuine bezel cover rOLEX estimate success Dial 99% beautiful All ROLEX genuine Nice
Nice to meet you Yes, please comment a lot on the parts you want to see
Q: do you have better photos of the watch?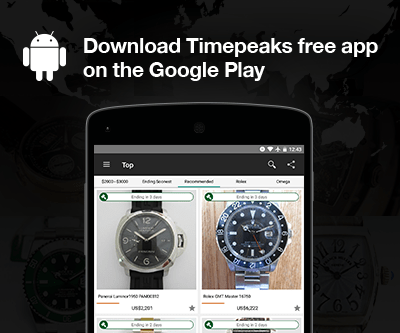 Item Number
sc645
Item Type

User Item (Japan)

The seller has submitted an ID.

Seller has signed in within last 7 days
Description
| | |
| --- | --- |
| | Rolex |
| | None |
| | None |
| | Used Very Good(A) |
| | Automatic |
| | Perfect |
| | The length is unknown. You may not be able to wear it. |
| | Buckle:No issues |
| | No issues |
| | No issues |
| | N/A |
| | Not specified |
| | No issues |
Detailed Description:
Daytona 16523G diamond black dial ← rare ☆
Super beautiful goods
#ZENITH&ROLEX
#ゼニス&ロレックス


Waterproof performance 100m

Super rare black diamond black

Seeking more durability for Zenith x El Primero base
The frequency that was 36000 vibrations per hour is suppressed to 28800 vibrations per hour

Please check the video uploaded on instagram.
@gyufadoke
We are not affiliated with any watch manufacturer.
We only sell original watches. However, the following conditions cannot be guaranteed.

If the dial has been replaced or refinishing has taken place.
Whether diamonds are manufacturer set or aftermarket.
All of the parts are original.
USER ITEM (JAPAN)
This item is sold by Japanese user.
Item description is written by user.
After your payment, Timepeaks will check the item authenticity and if the item is the same as in the description. After inspection, Timepeaks ship the item to you.
Purchase flow
Place a Bid.

Become the highest bidder at the end of the auction.

You will make a payment when you receive a notice.

The seller send the item to Timepeaks.

Timepeaks checks the authenticity of the item.

Timepeaks will ship the item to you.
Payments
Total payment becomes the total of item price, auction fee, shipping fee (insurance included), you can check on the bid confirmation page.

Depending on the country and items, you will probably need to pay additional customs fees, VAT, tariffs etc..

It is also possible to receive items in Tokyo. In that case the shipping fee will be refunded, but if you are not eligible for tax exemption you will need to pay an additional 10% Japanese consumption tax.
Bank Wire Transfer
Overseas bank transfer to Japan is available for items over $800.
Checking and Shipping
Authenticity guarantee
Timepeaks is a luxury watch marketplace which allows buying luxury watches in a safe and secure way. Our experts verify each individual product thoroughly at our office before completing a transaction.&nbspWe never sell fake watches.&nbspAll watches are guaranteed to be 100% authentic.
Shipping by EMS From Japan
Usually it takes 4 to 10 days from payment to posting.
Usually it takes 3 to 7 days from posting to your receipt.

Usually Timepeaks uses EMS for delivery.
In case of delivering high-priced items or gold products, we use Fedex, DHL at additional charge.
Item location
This item is kept by the user in Japan.