Jaeger Lecoultre master moon 39 Q1368470 (Orologio usato) vn346
L'asta è già terminata.

Prezzo di vendita: 4,247EUR
Vuoi acquistare un'oggetto come questo?
Ricevi Notifica Nuovi Arrivi per "Jaeger Lecoultre"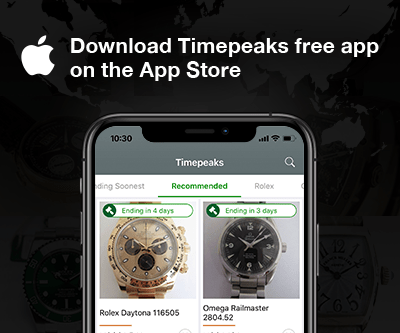 Numero di articolo
vn346
Tipo di prodotto

User Item

The seller has not submitted an ID.

Il venditore non ha effettuato l'accesso da più di 14 giorni
Descrizione
| | |
| --- | --- |
| | Jaeger Lecoultre |
| | Con garanzia (rilasciata Giappone) |
| Scatola originale del produttore | Con scatola |
| | Usato Buono(AB) |
| | 39mm |
| | Automatico |
| | Funzionante |
| | The length is unknown. You may not be able to wear it. |
| | Non specificato |
| | Non specificato |
| | Non specificato |
| | Non specificato |
| | Non specificato |
Non siamo affiliati con nessun produttore di orologi.
Vendiamo solo orologi originali. Tuttavia, le seguenti condizioni non possono essere garantite.

Se è stata effettuata la rifinitura o la manopola é stata sostituita.
Se i diamanti sono impostati dal fabbricante o aggiunti post-vendita.
Tutte le parti sono originali.
OGGETTO UTENTE
l'articolo è venduto da un utente fuori dal Giappone.
Descrizione dell'oggetto scritta dall'utente.
Dopo il vostro pagamento, Timepeaks verificherà l'autenticità dell'oggetto e se l'articolo è lo stesso come da descrizione. Dopo l'ispezione, Timepeaks spedirá l'oggetto a voi.
Modalitá di acquisto
Fai un'offerta

Diventa il miglior offerente alla fine dell'asta.

Effettuerai un pagamento quando si riceverai un avviso.

Il venditore invia l'articolo a Timepeaks.

Timepeaks verifica l'autenticità dell'articolo.

Timepeaks spedirá a voi l'oggetto.
Pagamenti
La cifra totale del pagamento é formata da prezzo, costo dell'asta e tariffa spedizione (assicurazione inclusa), è possibile controllarla sulla pagina di conferma dell'offerta.

Depending on the country and items, you will probably need to pay additional customs fees, VAT, tariffs etc..

È inoltre possibile ricevere gli articoli a Tokyo. In tal caso verrà rimborsato il costo di spedizione, ma se non si é elegibili per l'esenzione fiscale sarà necessario pagare l'iva giapponese del 10%.
Bonifico Bancario
Il trasferimento bancario all'estero in Giappone è disponibile per articoli superiori a € 700.
Controllo e Spedizione
Autenticità garantita
Timepeaks è mercato di orologi di lusso sicuro per collezionisti e principianti allo stesso modo. Prima di ogni transazione i nostri esperti controllano ogni pezzo presso la nostra sede in Giappone.&nbspNon vendiamo mai orologi falsi.&nbspTutti gli orologi hanno una garanzia di autenticità al 100%.