Jaeger Lecoultre AMVOX2 192.8.25 (Orologio usato) 4018
L'asta è già terminata.

Prezzo di vendita: 3,550EUR
Vuoi acquistare un'oggetto come questo?
Ricevi Notifica Nuovi Arrivi per "Jaeger Lecoultre"
Yes, we can ship this watch to USA by EMS.
Q: Can this watch be shipped from Japan to USAS?
I uploaded new photo. Please check for that. Thanks.
Q: Where is the small chip on the glass located?
Start/Stop : touch on the face of the crystal close to 12 (top side) Reset : touch on the face of the crystal close to 6 (bottom side)
Q: Is this the model where you use the crystal to activate the chronograph?
No ! 2 small discs turn around and 2 small triangle markers show 30mins/12hours counters.
Q: Is this watch missing the hands of the other dials and the centre piece?!
This watch has no box. Thanks.
Q: Could you send photos with the box or of the box please ?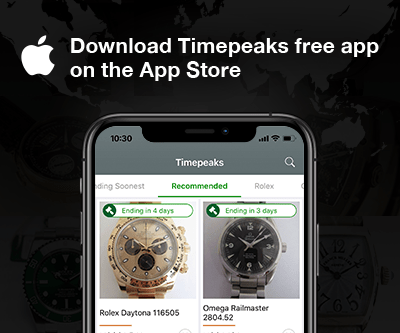 Descrizione
| | |
| --- | --- |
| | Jaeger Lecoultre |
| | Nessuno |
| | 250**** |
| Scatola originale del produttore | Nessuno |
| | Usato Normale(B) |
| | 44mm |
| | In acciaio inox |
| | Automatico |
| | Funzionante |
| | The length is unknown. You may not be able to wear it. |
| | Nessun collegamento supplementare, Fibbia:Nessun problema |
| | Nessun problema |
| | Nessun problema |
| | Nessun problema |
| | Lunetta fissa |
| | Piccolo crack |
Non siamo affiliati con nessun produttore di orologi.
Vendiamo solo orologi originali. Tuttavia, le seguenti condizioni non possono essere garantite.

Se è stata effettuata la rifinitura o la manopola é stata sostituita.
Se i diamanti sono impostati dal fabbricante o aggiunti post-vendita.
Tutte le parti sono originali.
OGGETTO RESTITUIBILE
Il venditore ha il diritto di rifiutare di vendere i propi oggetti agli offerenti.
Se il prezzo di offerta più alto non è soddisfacente per il venditore, è possibile che l'offerente non possa acquistare l'oggetto.
A volte ci vorrá un pó di tempo per il venditore nel decidere se vendere i loro oggetti o no.
Nel caso che non vi sia alcuna risposta da parte del venditore entro 4 giorni, è possibile scegliere di non acquistare l'oggetto.

Modalitá di acquisto
Fai un'offerta

Diventa il miglior offerente alla fine dell'asta.

Il venditore decide se vendere l'orologio al tuo prezzo o no. Di solito ci vogliono circa 2-5 giorni per il venditore nel giudicare.

Effettuerai un pagamento quando si riceverai un avviso.

Timepeaks spedirá a voi l'oggetto.
Pagamenti
La cifra totale del pagamento é formata da prezzo, costo dell'asta e tariffa spedizione (assicurazione inclusa), è possibile controllarla sulla pagina di conferma dell'offerta.

Depending on the country and items, you will probably need to pay additional customs fees, VAT, tariffs etc..

È inoltre possibile ricevere gli articoli a Tokyo. In tal caso verrà rimborsato il costo di spedizione, ma se non si é elegibili per l'esenzione fiscale sarà necessario pagare l'iva giapponese del 10%.
Bonifico Bancario
Il trasferimento bancario all'estero in Giappone è disponibile per articoli superiori a € 700.
Controllo e Spedizione
Autenticità garantita
Timepeaks è mercato di orologi di lusso sicuro per collezionisti e principianti allo stesso modo. Prima di ogni transazione i nostri esperti controllano ogni pezzo presso la nostra sede in Giappone.&nbspNon vendiamo mai orologi falsi.&nbspTutti gli orologi hanno una garanzia di autenticità al 100%.