Tag Heuer Carrera CAR2210 (Relojes de segunda mano) vd242
7 días de visitas :

43

Lista de seguimiento :

109
Precio de venta historial de cambios
Esta subasta ya ha terminado.

Precio de Venta: 1,123EUR
¿Quieres comprar un artículo idéntico a este?
Obtenga una notificación de llegada nueva para "Tag Heuer"
Q: Hi there. My status says I'm the best bidder does that mean I have won the auction?
Q: can you publish the complete reference?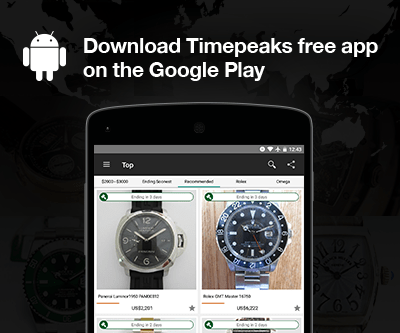 Número del artículo
vd242
Tipo de producto

User Item (Japan)

El vendedor ha enviado una identificación.

El vendedor ha firmado dentro de 7 días
Descripción
| | |
| --- | --- |
| | Tag Heuer |
| | Con garantía (Japón) |
| | RKL**** |
| Caja original del fabricante | Con la caja |
| | De segunda mano Buena(AB) |
| | 39mm |
| | Acero inoxidable |
| | automático |
| | Se está trabajando correctamente |
| | Longitud aproximada de 19.5 cm, Sin eslabón adicional , Hebilla:Sin problemas |
| | Sin problemas |
| | Sin problemas |
| | Sin problemas |
| | Bisel arreglado |
| | Sin problemas |
Descripción detallada:
[TAG HEUER TAG Heuer]
CAR2210 Carrera Chronograph
SS Date Automatic winding Men's 70755-1
Brand name TAG HEUER
Tag Heuer model number CAR2210
Serial number RKL **** size men
Dial Black Band color Black
Inner diameter (arm circumference) Up to approximately 19.5cm Case width approximately 39mm (excluding crown)
Drive Automatic (mechanical) Accessories Tag Heuer Box
TAG Heuer warranty (2011, domestic sales)
Material Stainless steel (SS) Function / Specification Date function
Waterproof:
No estamos afiliados con ninguna empresa fabricante de relojes.
Solo vendemos relojes originales. Sin embargo, no podemos garantizar los siguientes artículos.

Si ha tenido lugar el cambio de marcado o el reacabado.
Si los diamantes son originales del fabricante o se colocaron después.
Todas las partes son originales.
USER ITEM (JAPAN)
Este artículo es vendido por el usuario japonés.
La descripción del artículo está escrita por el usuario.
Después de su pago, Timepeaks verificará la autenticidad del artículo y si el artículo es igual a la descripción. Después de la inspección, Timepeaks te envía el artículo.
Flujo de compra
Realizar una puja.

Conviértete en el mejor postor al final de la subasta.

Usted hará el pago cuando reciba un aviso.

El vendedor envía el artículo a Timepeaks.

Timepeaks comprueba la autenticidad del artículo.

Timepeaks le enviará el artículo.
Pagos
El pago total se convierte en el total del precio del artículo, la tarifa de la subasta, la tarifa de envío (seguro incluido), puede verificar en la página de confirmación de la oferta.

Dependiendo del país y los artículos, debe pagar un VAT (IVA, Impuesto al Valor Agregado) adicional, tarifas, etc. cuando reciba los artículos.

También es posible recibir artículos en Tokio. En ese caso, se reembolsará la tarifa de envío, pero si no es elegible para la exención de impuestos, tendrá que pagar un impuesto de consumo adicional japonés del 10%.
Transferencia bancaria
La transferencia bancaria en el extranjero a Japón está disponible para artículos de más de € 700.
Comprobación y envío
Garantía de autenticidad
Timepeaks es un mercado de relojes de lujo seguro para coleccionistas y novatos por igual. Antes de que cada transacción sea finalizada, nuestros expertos en relojes verifican cada pieza en nuestra oficina en Japón.&nbspNunca vendemos relojes falsos.&nbspTodos los relojes están 100% garantizados.